About the Race
The Hope Is Coming 5K is not only a race for professional runners and running enthusiasts, but also one for cancer patients, survivors, their families and supporters, and their caregivers. It is truly an event for all.
The 1st race took place in August 2009 with the help and support of local businesses and individuals that all felt the same thing – hope! The race has steadily grown each year and with the continued support of local business and individuals will continue to bring hope and inspiration to those who directly benefit from this special event.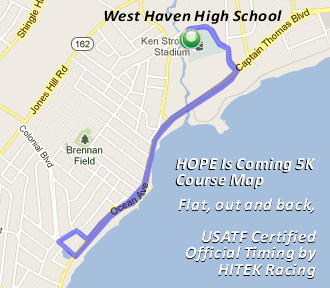 Fast forward to 2017, DATE CHANGE! Due to pending construction at West Haven High School. Hope is Coming 5k will be postponed until spring 2018. We will post the new date as soon as it is confirmed. Thank you for all your support!
The track is a flat, out and back 5K run and great for all levels of participants. The race is USATF Certified and Offical Timing is provided by HI-TEK Racing. The race begins at the West Haven High School from the football field and continues down Captain Thomas Boulevard, onward to Ocean Avenue and returns back to the finish line on the school grounds.
Along Captain Thomas Boulevard and onward, along Ocean Avenue, runners are directly exposed to scenic Long Island Sound sandy beaches, water front views and warm ocean breezes.
There is a water stop on the course, at the halfway mark, and the course is very well marked. There are West Haven Police and Hope Is Coming 5K volunteers stationed throughout the course.
After the race, a special announcements, sponsor acknowledgements, race awards presentation and special sponsor gift presentation ceremony takes place.
During and after the race there are activities, entertainment, free Reiki sessions and more.
Each year Hope Is Coming 5K has received many letters of encouragement from runners and kind thank you letters from cancer patients, survivors and their supporters that have looked forward to and participated or simply attended the race as supporters. The Hope Is Coming 5K is not only just a race, it is a special event that brings hope to those in need most, the beneficiaries of your support.
The Inspiration For The Race Name ….



The idea for this race was born in one of our weekly Nuclear Medicine staff meetings, in the fall of 2008. Although construction had commenced, The Smilow Cancer Hospital was merely a blueprint! In the above mentioned staff meeting, it was announced that the hospital was seeking donations from employees, in whatever amount they could afford to give. I thought I don't have much to give, but I do have a love of running and a strong desire to contribute to the care and support of the many beautiful people I meet each day at Yale-New Haven Hospital who are fighting for their lives. Two thoughts emerged … we, as human beings, have a responsibility to help those of us that are struggling. We, as human beings, have the capability to overcome the obstacles that life presents us with. I love running, I have dreamed of directing my own event! How wonderful, for me, to be presented with the perfect opportunity to create a running event in honor of the brave people I meet each day at Yale-New Haven Hospital!
I had no idea of what I was getting myself into … so many details, where should the event take place, the course, insurance, permission from the hospital, permission from the state police, the local police, the Board of Education, t-shirts, the web site, food, water, rest rooms, volunteers. The list goes on. What should I name this race? Around the same time that I had the idea to start this race, I was on the shuttle bus on my way to work, and there in front of me I see "HOPE IS COMING" written on one of the beams that was to be the support of the future hospital. At that moment I knew that my race had a name … Hope is Coming 5k. I'll repeat, I had no idea what I was getting myself in to … no idea how helpful the people in my community were going to be! Every obstacle, every detail comes with very kind, helpful individuals whose sole purpose in this is to help those in need! I didn't know at the time I saw this written on that beam, that it was a message to me as well as all those to be treated at Smilow Cancer Hospital. It is a true gift to serve these beautiful people and their families!
Kindest Regards and Sincere Thank You's
Tracey Sullivan
Event Director
Special Thanks To:
West Haven High School
West Haven Police Department